Course details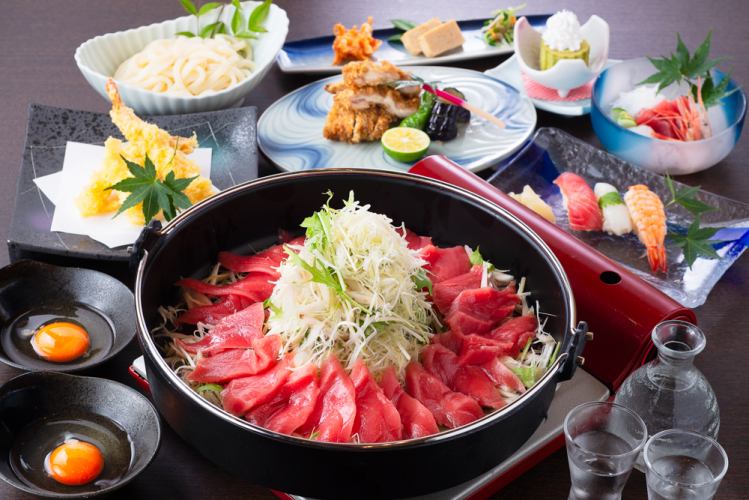 Profit degree outlook! Tuna suki sukiyaki pot & special grasping sushi course <50 kinds with sake> 120 minutes drinking> 7500 yen ⇒5500 yen
By using a coupon5500 yen
tax included
8items

3

-

30persons

All-you-can-drink available

120 minutes All you can drink (LO: 30 minutes ago)
This time we will introduce a new course with a theme of tuna this time with a daily gratitude This course is a course we used for sukiyaki luxuriously using this tuna! Come and please relish.
Course menu
◆ Three kinds of appetizers in the four seasons
Assortment of three kinds of produce made directly to Toyohama Port
◆ Tuna Tuna Sukiyaki Pot
~ With udon ~
◆ grilled chicken with grass
◆ Fried crab and tempura of shrimp
~ Seasonal vegetables added ~
◆ Special selection handful sushi 3 piercing
◆ Dessert of four seasons
◆ Japanese sake BAR <Sommelier of sake! 50 kinds carefully selected by a professional sake brewer!>
Melody Momogawa Rice wine from Kikusui Shirao Kin Tiger pure rice Snow in Ryuuzuyin Ichinomiya Shirataki Kitauma Manzan
Mr. Sawano Inoue Takasui Sako no kuni warrior kingdom crest urasa three thousand sengi horai jun rice ginjyo makeup
Kusugami Namenizu Kosui Masaki Wakusei Hoshi Izumi South beauty Yoshino River Ginza Tengu dance thought
Horai Izumi Masumi Amagi Ginryu Hisanami Jyunai Enya Ena Mount Oku Hida Silver Mark Ridicule Honorable Youth Yoshi's honor
Northern honor northernmost honor Noriko Tateyama Dewa Sakura Osakaya Nagase Minoru 36 people
Festival (1 a day only) ets ,,,,,
of course!
Draft beer, shochu, high ball, soft drink ♪
※ The contents of the dish may vary depending on the season and purchase situation.※ Depending on the season and the weather, production areas may be different.==============================
It is also possible to change to "special selection of drinks" at + 500 yen ♪
Shochu, cocktail, wine, fruit wine, etc.
More than 30 kinds of items can be added !!
==============================
All-you-can-drink menu
·beer
· Express delivery raw! Sapporo black label
·Highball
· Dewars
· Original High Ball
· High Ball Ginju High Ball Hustle High Ball Oyuko Wine Highball
·sour
· Tomorrow's Lemon Sour Grapefruit Sour Lime Sour Serious Man Plum Sour Yuzu Sour Okinawa Sequercer Sour Salty Lychee Sour Oolong High Green Tea High
·Sake
· Selected Dry Yoshino River [Niigata Prefecture] Hengda's moon Dry [Kyoto]
· Shochu
· Potato shochu wheat shochu (rock · water split · hot water split)
·wine
· Francia (red · white) [California]
·Fruit wine
· Ancient plum wine sake liquor
·Cocktail
Peach tree Fizz fuzzy navel Peach oolong cassis soda cassis Orange Smirnoff lemonade Sminoff pink lemonade
·Non-alcoholic cocktails
· Mango Mojito Peach Mojito Strawberry Mojito Blueberry Mojito Ginger Mojito Mango Tea Soda Blueberry Tea Soda Reggae Punch Ginger Strawberry Calpis Mango Calpis
·Soft drink
Oolong Tea Green Tea Jasmine Tea Hot Coffee Ice Coffee Orange Juice Calpis Grapefruit Juice Cola Ginger Ale Sweet Sake Calpis Cranberry Juice Solty Lychee Soda Okinawa Seikwasa Soda Serious Man Ume Squash Yuzu Squash
Reservation deadline

Until 21:00 on the day before the desired store visit
Available days for reservation

Monday - Sunday - Public holidays - Holidays
Coupons that can be used with this course
2019/01/17 update