Course details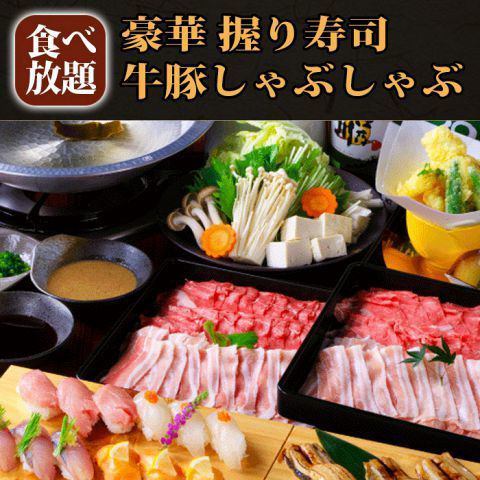 【Popularity No.1】 Luxurious Edo-front Sushi & Pork Shabu-shabu all-you-can-eat! <Drink with 50 Japanese Sake> Drink 6500 yen ⇒ 5000 yen
By using a coupon5000 Yen
30items

3

-

40persons

All-you-can-drink available

120 minutes All you can drink (LO: 30 minutes ago)
Sister store «Hiragari sushi» Popularity surging in ◎ All you can eat course finally ☆ Appears at the main station main store ☆ 【Gorgeous handful sushi and cow & three yuan shab shabu-shabu all-you-can-eat course】 + 50 kinds of sake including festival and all-you-can-drink About 6,500 yen how much · · · 5000 yen! Large service ☆ Please taste the enthusiasm of the new store manager who is prepared for the deficit.
Course menu
◇ Shabu Shabu ◇
This time, cattle and three yuan pigs ⇒ ☆ All you can eat ☆
Please enjoy it as much as you want!
◇ authentic Edo prefecture sushi ◇
We will offer each theme not to keep you waiting.
We will offer you the best recommended sushi on that day ☆
【An example of sushi content】
Tuna something
· Tuna lean · Medium Toro · Bin ょ 鮪 · Negiriro
◆ Grilled beef
· Boy's shrimp · Jellyfish shell · spirit
◆ Popular
· Salmon · sweet shrimps · · · how much
◆ Eating comparisons
◆ White stuff
· Shrimp Boyle · Shrimp Shrimp · Shrimp Shrimp
◆ octopus · potato
· Lively octopus · steamed octopus · live gobo · boil getso · yari squid · emblem crest
◆ Vegetables
· Avocado · eggplant
◆ Warship ships
· Raw laver warship · Ikura warship · Negitro warship
◆ hand winding · fine winding
· Kappa roll · Ogonomaki roll · Mountain beef curd roll · Kanji wound · Natto roll
· Squid cooked with natto · Negimitero roll · Trotaku roll · Iron cooked roll
· Hole Ho Wound · Dynamite Winding · Mentaiko Roll · Ume Shizen Roll
◆ Japanese sake BAR <Sommelier of sake! 50 kinds carefully selected by a professional sake brewer!>
Melody Momogawa Rice wine from Kikusui Shirao Kin Tiger pure rice Snow in Ryuuzuyin Ichinomiya Shirataki Kitauma Manzan
Mr. Sawano Inoue Takasui Sako no kuni warrior kingdom crest urasa three thousand sengi horai jun rice ginjyo makeup
Kusugami Namenizu Kosui Masaki Wakusei Hoshi Izumi South beauty Yoshino River Ginza Tengu dance thought
Horai Izumi Masumi Amagi Ginryu Hisanami Jyunai Enya Ena Mount Oku Hida Silver Mark Ridicule Honorable Youth Yoshi's honor
Northern honor northernmost honor Noriko Tateyama Dewa Sakura Osakaya Nagase Minoru 36 people
Festival (1 a day only) ets ,,,,,
of course!
Draft beer, shochu, high ball, soft drink ♪
"Deep-fried season" + "Seasonal sherbet" service as a plus 2 great benefit!
※ With premium beer at + 500 yen (Hakuho Nobe) with all you can drink!
※ With sushi bouquet with + 2500 yen!
※ With cake with + 2000 yen!
All-you-can-drink menu
·beer
· Express delivery raw! Sapporo black label
·Highball
· Dewars
· Original High Ball
· High Ball Ginju High Ball Hustle High Ball Oyuko Wine Highball
·sour
· Tomorrow's Lemon Sour Grapefruit Sour Lime Sour Serious Man Plum Sour Yuzu Sour Okinawa Sequercer Sour Salty Lychee Sour Oolong High Green Tea High
·Sake
· Selected Dry Yoshino River [Niigata Prefecture] Hengda's moon Dry [Kyoto]
· Shochu
· Potato shochu wheat shochu (rock · water split · hot water split)
·wine
· Francia (red · white) [California]
·Fruit wine
· Ancient plum wine sake liquor
·Cocktail
Peach tree Fizz fuzzy navel Peach oolong cassis soda cassis Orange Smirnoff lemonade Sminoff pink lemonade
·Non-alcoholic cocktails
· Mango Mojito Peach Mojito Strawberry Mojito Blueberry Mojito Ginger Mojito Mango Tea Soda Blueberry Tea Soda Reggae Punch Ginger Strawberry Calpis Mango Calpis
·Soft drink
Oolong Tea Green Tea Jasmine Tea Hot Coffee Ice Coffee Orange Juice Calpis Grapefruit Juice Cola Ginger Ale Sweet Sake Calpis Cranberry Juice Solty Lychee Soda Okinawa Seikwasa Soda Serious Man Ume Squash Yuzu Squash
Reservation deadline

Up to 20 o'clock yesterday on the day before the store visit
Available days for reservation

Monday - Sunday - Public holidays - Holidays
2019/01/04 update